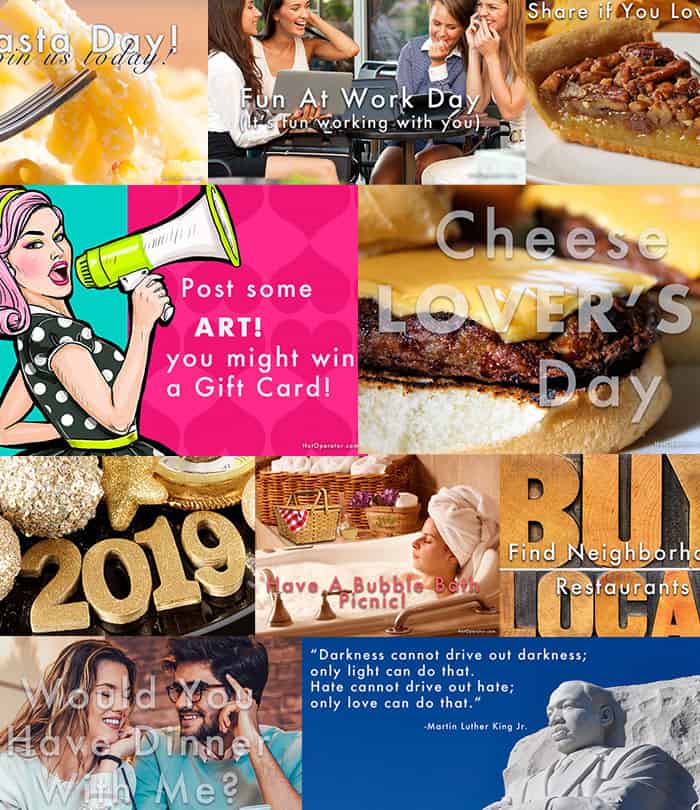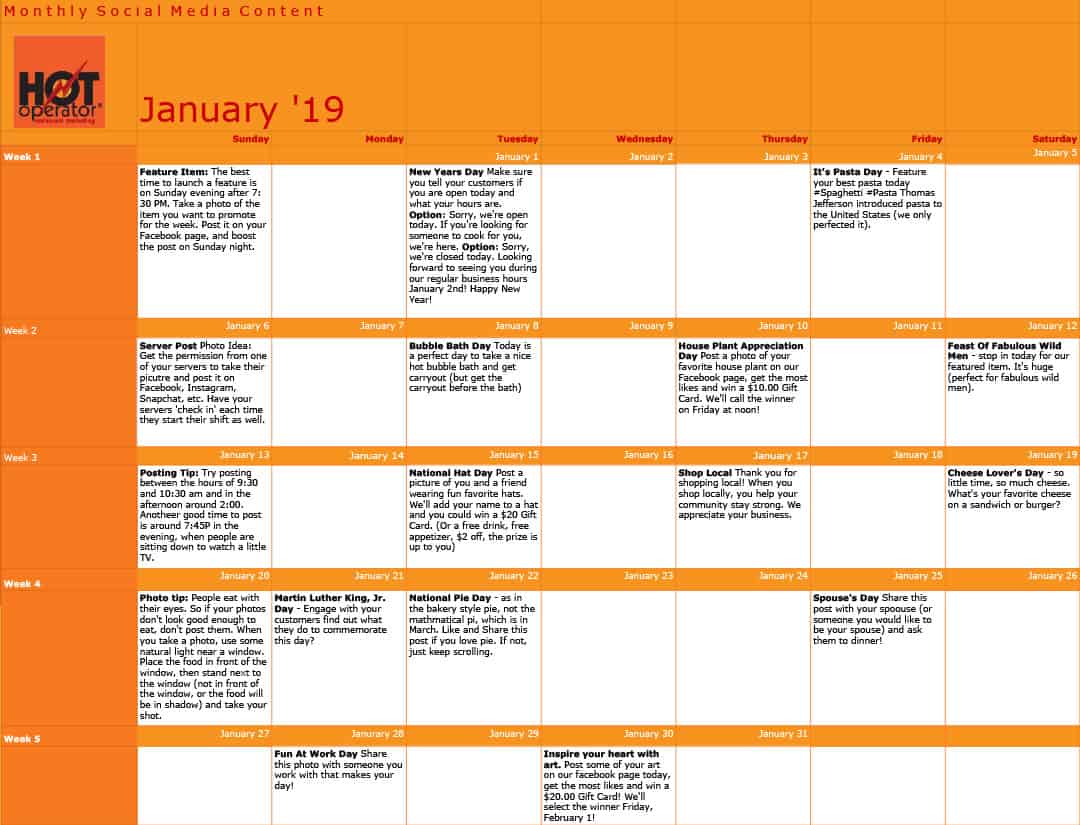 Order the monthly calendar & content, today!
Works with Facebook, Twitter, Instagram, Pinterest and more!
HotOperator has created a monthly social media calendar that includes images and copy for you to use in your social media marketing campaigns. We have made it easy for you to make weekly postings with easy professional images and ideas. Get started with a yearly subscription for $199 or pay monthly for $17.99 a month. This program is worth it for the images alone! Every month you will receive an email to download the upcoming months calendar and content. Schedule your posts and you'll be all set with an active social media program.

Start your FREE Trial! Click on BUY NOW! Enter coupon code: happynewyear at check out until January 31, 2019! 
Order the monthly calendar & content, today!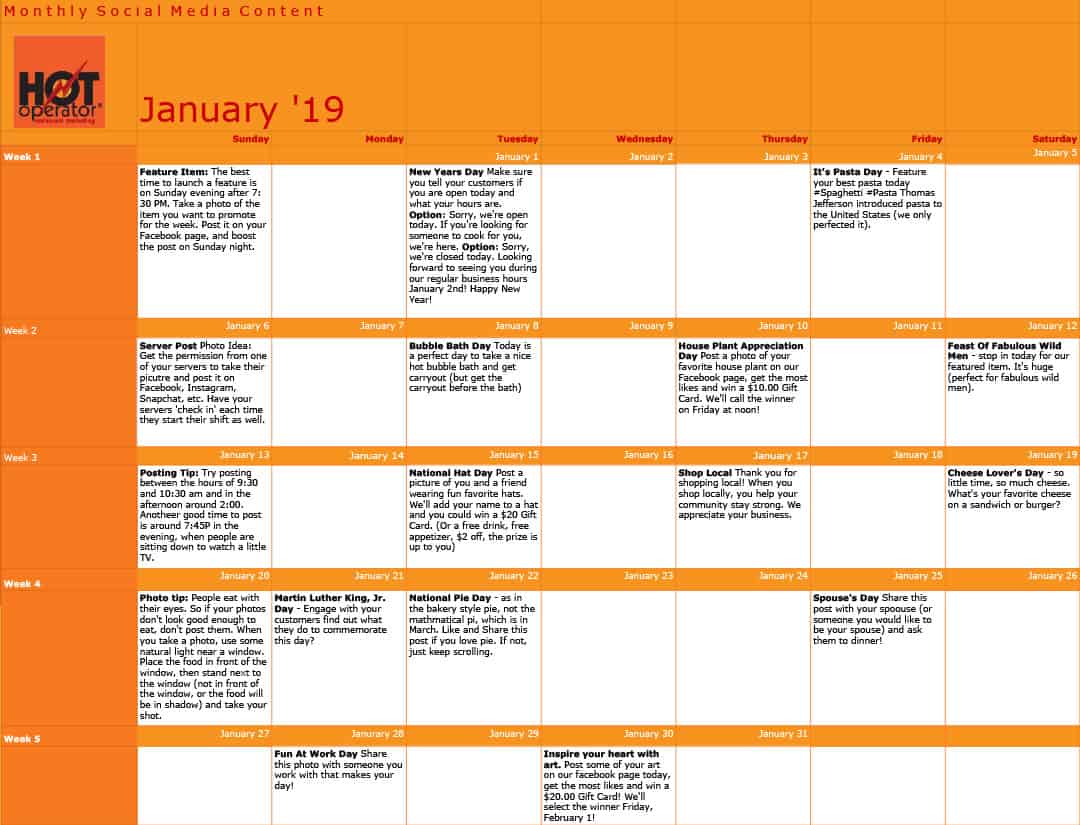 Introducing
HotOperator Restaurant Social Media Calendar & Content
For some restaurant operators, social media can seem overwhelming and expensive. That's why HotOperator came up with the Social Media Content Calendar. The program includes everything you need to make your restaurant social media program easy, and productive.
Each Monthly Calendar Includes:
At least 12 restaurant social media posts
Social media copy you can use
Professional illustrations and photos
At least 2 restaurant social media promotions
Perfect for Facebook, Twitter, Instagram, Pinterest and more!
Why you should sign up for HotOperator Restaurant Social Media
It will keep your restaurant top-of-mind on social media
Your restaurant social media will be easier
Your Facebook posts will be more professional
You'll have promotions that actually work to get new customers into your restaurant
Each month we'll post a new calendar and content that helps you engage with your customers. Add some specific posts to your feeds and you'll be on your way to an active engagement with patrons. All images will be ready for sharing and text ready to copy and paste. You can make alterations or share as is, it's up to you.
How Much Does HotOperator Restaurant Social Media Calendar Cost?
That's the best part. The HotOperator restaurant social media calendar program is only $199.00 for an entire year! Or you can purchase the program month-to-month for only $17.99, or try it for a single month for only $24.99. Don't let your restaurant social media program go another moment without professional help! Sign up here!
If you would prefer a custom restaurant social media program (if you can afford it, this is the best way to go), contact HotOperator here and have a FREE consultation. Click the link now to get started!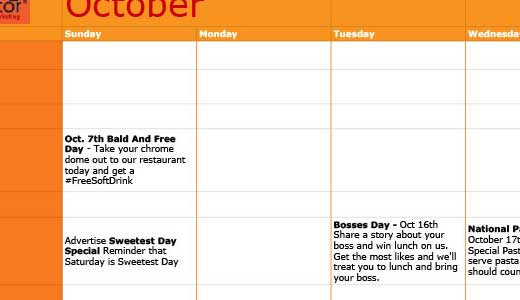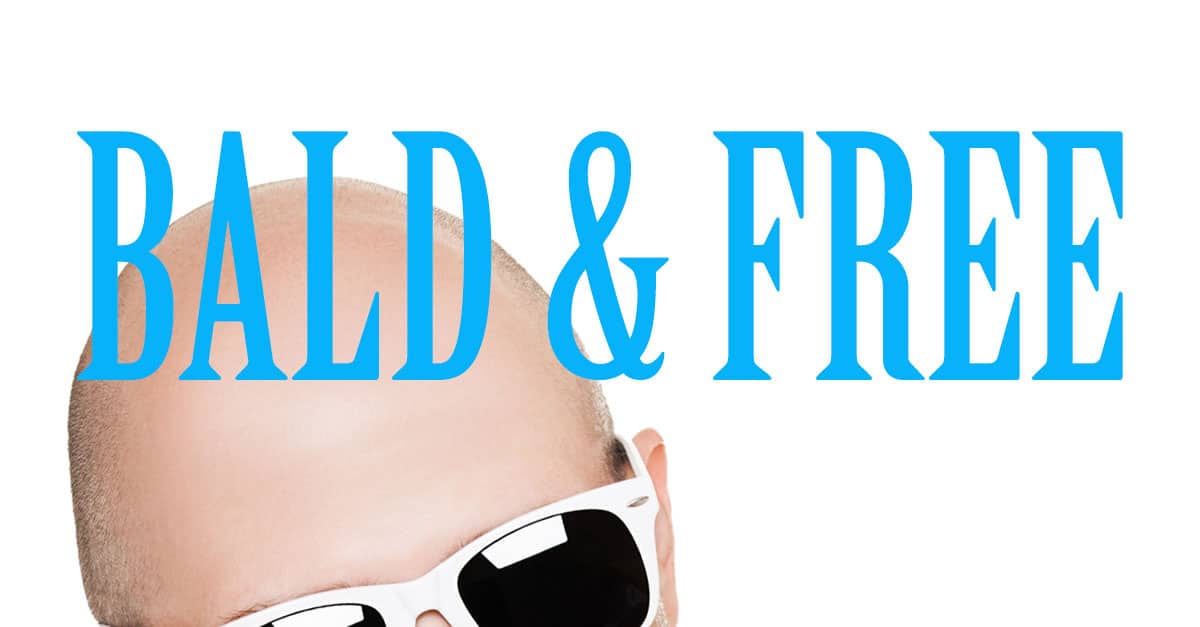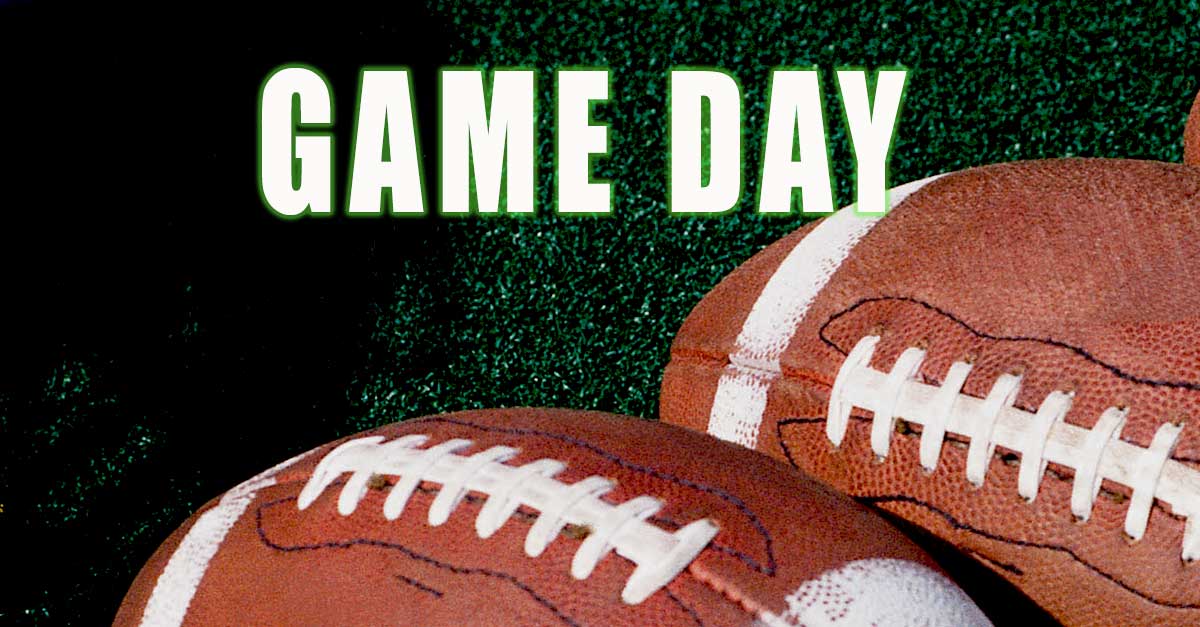 Extras, post & share specials for game day
Let HotOperator Help You With Your Social Media Program
Order the monthly calendar & content, today!