If your restaurant is caught in a downard spiral, we can help turn it around!
I've been in menu development for more than two decades and in the foodservice business since 1988, and the one thing that seems to vex restaurant operators more than any other is what I call the Restaurant Downward Spiral, and it goes like this:
The restaurant opens and it seems profitable. Then about a year into it, maybe longer, the operator gets to thinking it might be time to update the menu. So she starts to pay attention to what seems to be selling and what doesn't more closely than usual. Much to her dismay, she notices that the most expensive items on the menu aren't selling particularly well, and she reasons that anything over a certain price point just doesn't sell, so she takes those items off the menu.
"The most expensive items on the menu aren't selling particularly well …"
And of course she's right. The most expensive items are the toughest to sell in most restaurants. But now, the most expensive items are just over $10.00 rather than $15.00, and guess what? The next most expensive item starts to slow down. Then, about six months goes by, and she notices that the items over ten bucks are not selling well, so she reasons that her customers are really getting cheap. And she decides that nothing over ten bucks will sell in her restaurant.
The problem isn't that customers are getting cheap, it's that they are doing what they always do.
Restaurant customers are not getting cheaper. They're subconsciously comparing the most expensive item to the least and hovering at about the 75 percentile. And by stepping down the price of the items on the menu over time, the operator is spiraling their average check down, and down, and down.
The solution to this problem is really simple. Rather than take the most expensive items off the menu, instead, go the other way. Not with everything, mind you, but with items that actually have a value at the higher end of the scale. And be ok with the fact that these items may not sell that well, and you may have to run a special on them from time to time to clear out the inventory.
Mental Anchor Your Menu!
HotOperator has used Mental Anchoring for many years and it works! It's like magic for a restaurant. We can walk you through the process of how to mental anchor your menu. Just click the link to contact a HotOperator Consultant, and we'll outline how it works and why you should do it for your restaurant.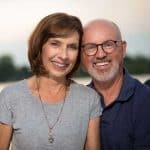 Mark and Kelly are a design-engineer team and managing partners of HotOperator. They have been working in the restaurant business since 1989. Either can be contacted through the HotOperator website, or by calling 800-316-3198.
Menu Design & Engineering • Restaurant Marketing • Social Media • Websites